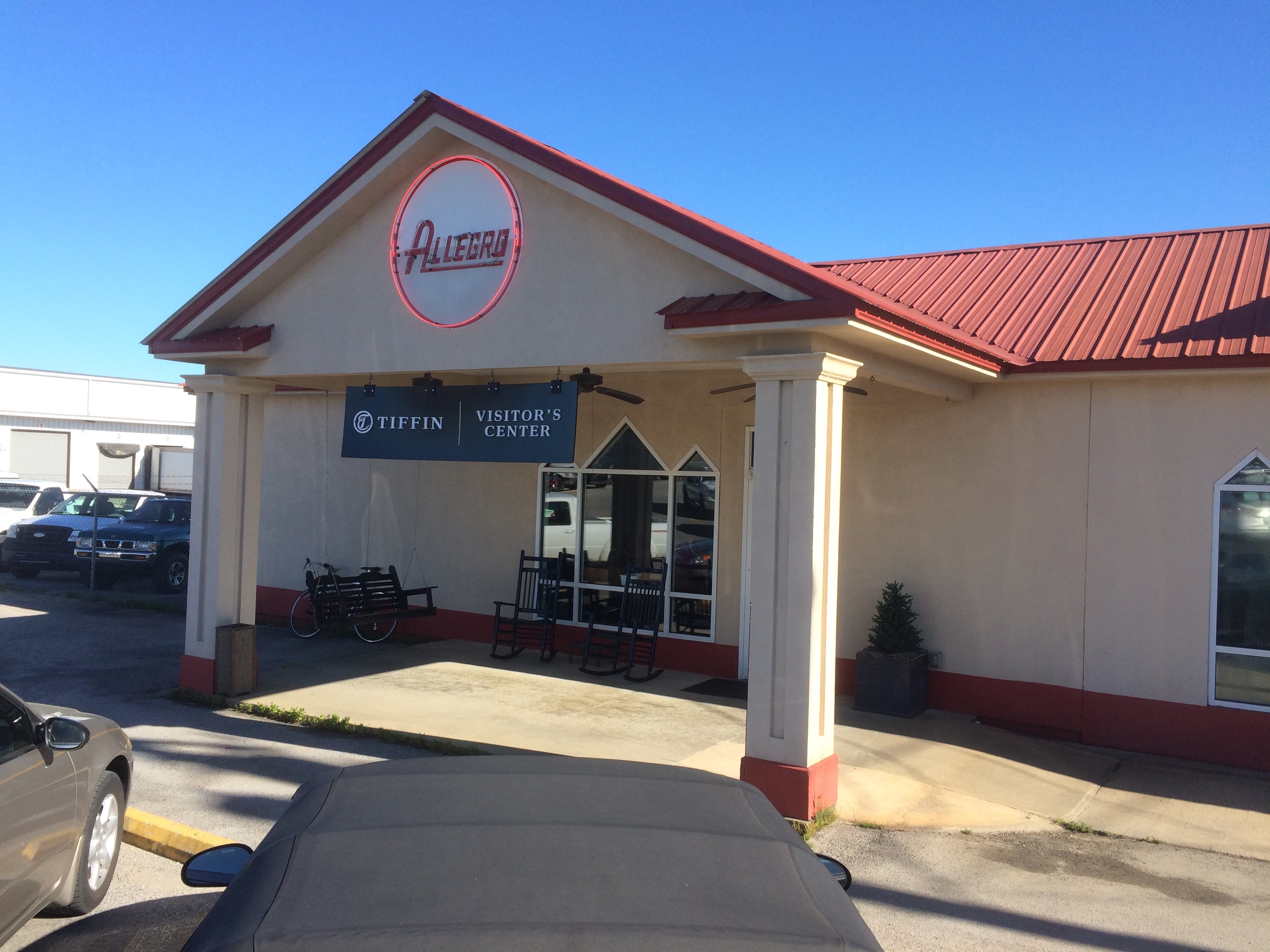 Our continued quest to find out how well different RVs are made led us to Red Bay, Alabama, the home of Tiffin Motorhomes. We had been on tours on two different occasions that you can read about (Factory Tours and More Factory Tours). It's no coincidence that Red Bay is also the home of Tiffin Supply Company (building materials and lumber), and Tiffin TV & Appliance. You will understand once you learn the history of how Mr. Tiffin got into the RV business. The Tiffins were already supplying the fledgling RV businesses in the Red Bay area and when they didn't make it, Tiffin stepped in and picked up the pieces.
There was a big group that showed up. It seems that the Snowbirds were flocking home. This is something to keep in mind if you own a Tiffin and are thinking about going to their legendary service center.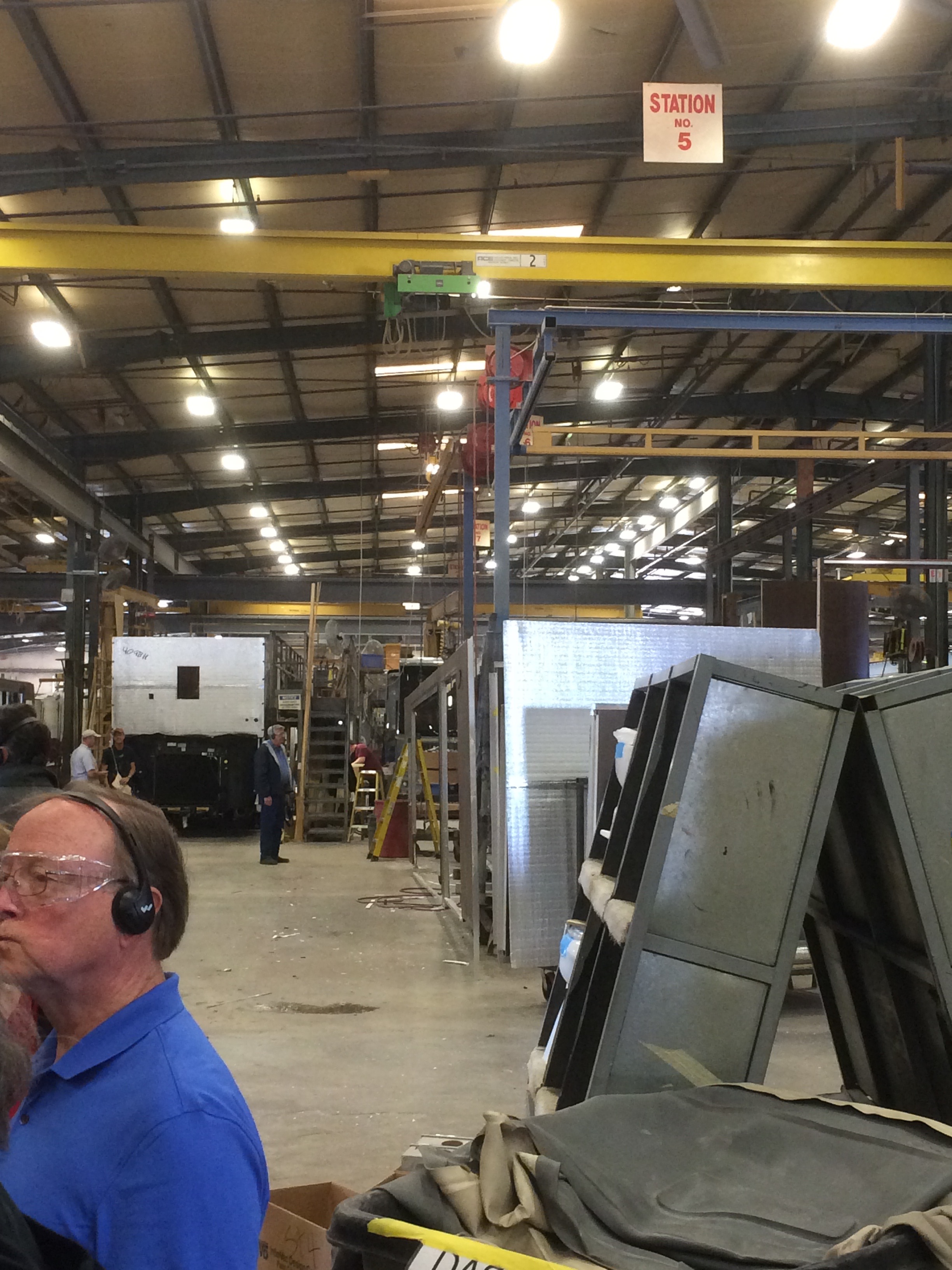 Brenda, our guide, made things interesting by giving us lots of the history behind Tiffin, both the family and the brand. Their 1,500 employees manage to finish 12 units a day. It takes about 5 days for assembly, 5 more days for paint and another five days for finishing. You're more than welcome to go and see yours being built, if you like. They have a schedule printed out of where it will be at what time and are very accommodating in helping you out. There are even Station number signs posted.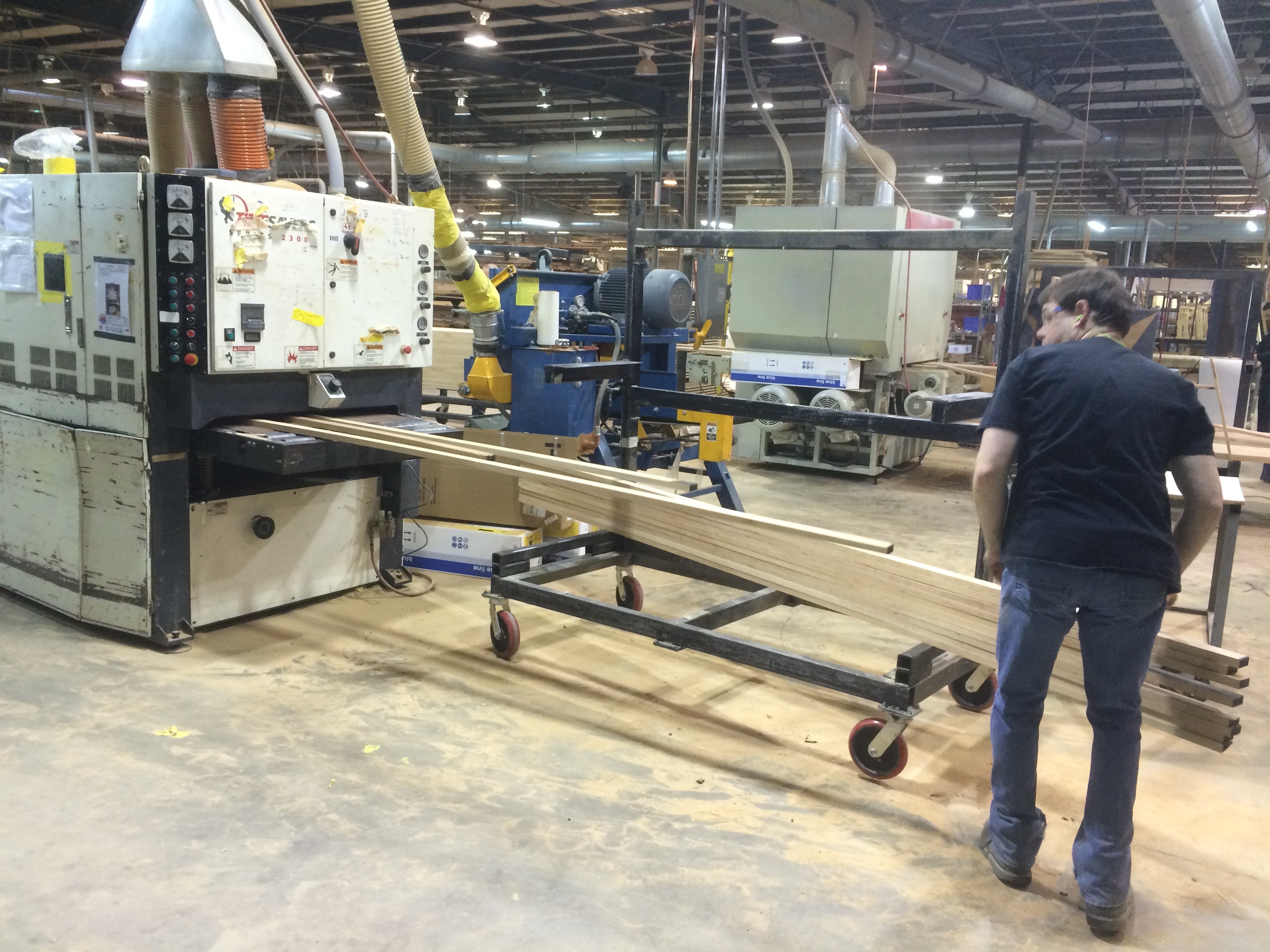 Tiffin has quite an extensive carpentry shop. One hundred and ninety people take plain old lumber, then plane, mill, route, cut, and in some cases bend it, to make the beautiful wood fixtures and furniture that go into their coaches. The carpentry shop is expansive and has every tool a woodworker could dream of. There is a giant vacuum system that keeps it clean enough that dust masks are not required.
I like that Tiffin does their own up-building. They get the chassis in and weld the framework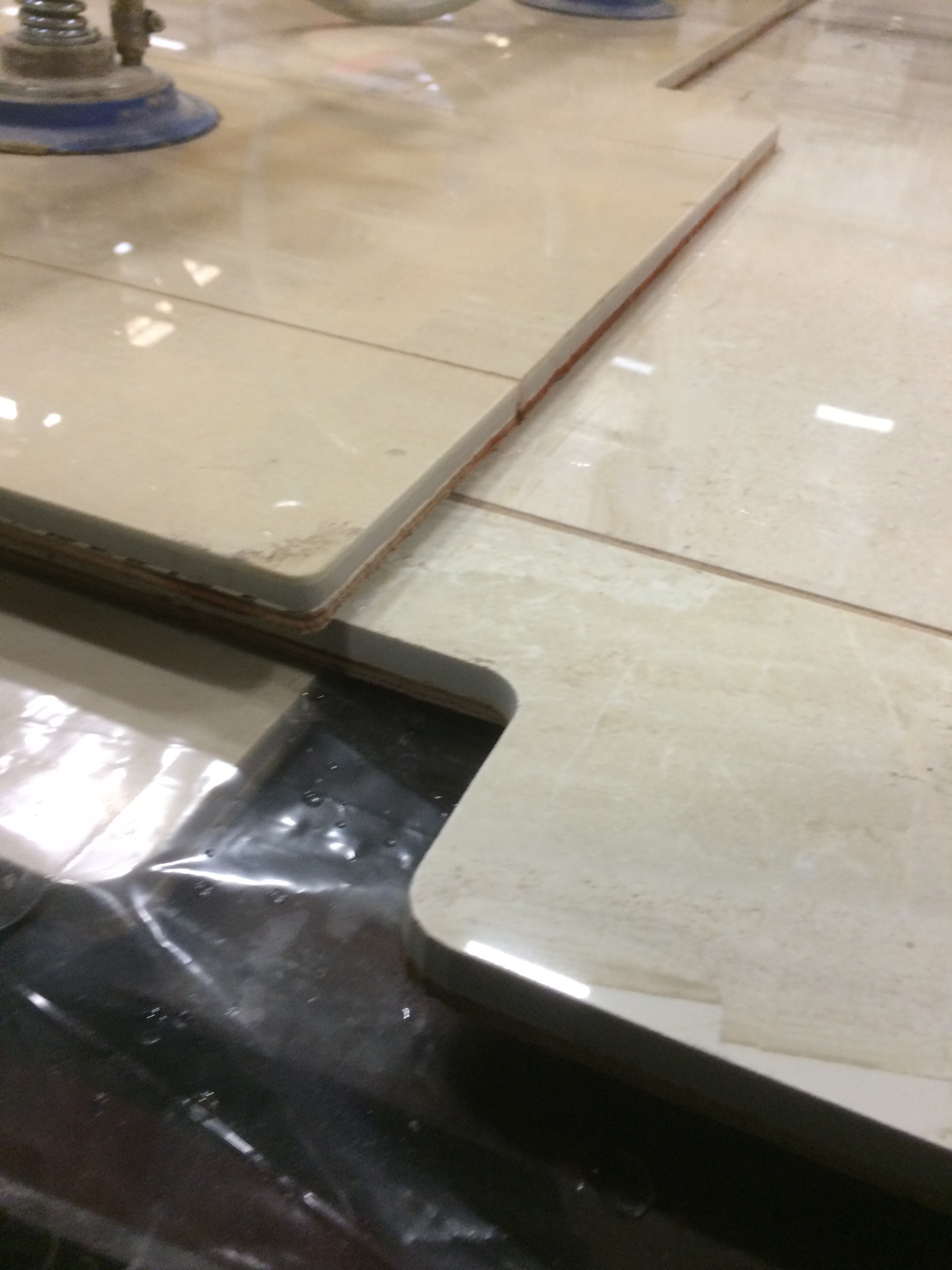 for the floor and lower compartments. The sidewall and roof are all aluminum frames. Each joint is thoroughly welded. The lamination process is typical fiberglass/Luann with a solid foam core for insulation. I should have taken a closer look at the framing to look at gussets and openings. But we didn't walk next to the welders for safety purposes and I didn't see
any frames just standing around. I thought it interesting that the ceramic tile is cut by water jets. This makes it a very precise cut and shapes that are near impossible with a tile cutting saw blade.
The fiberglass front caps are made by a Tiffin spinoff company in Iuka, MS. That means that they and save the tools (molds) so you can always get another made, if needed. They didn't specify, but I would guess they do the rear caps, too.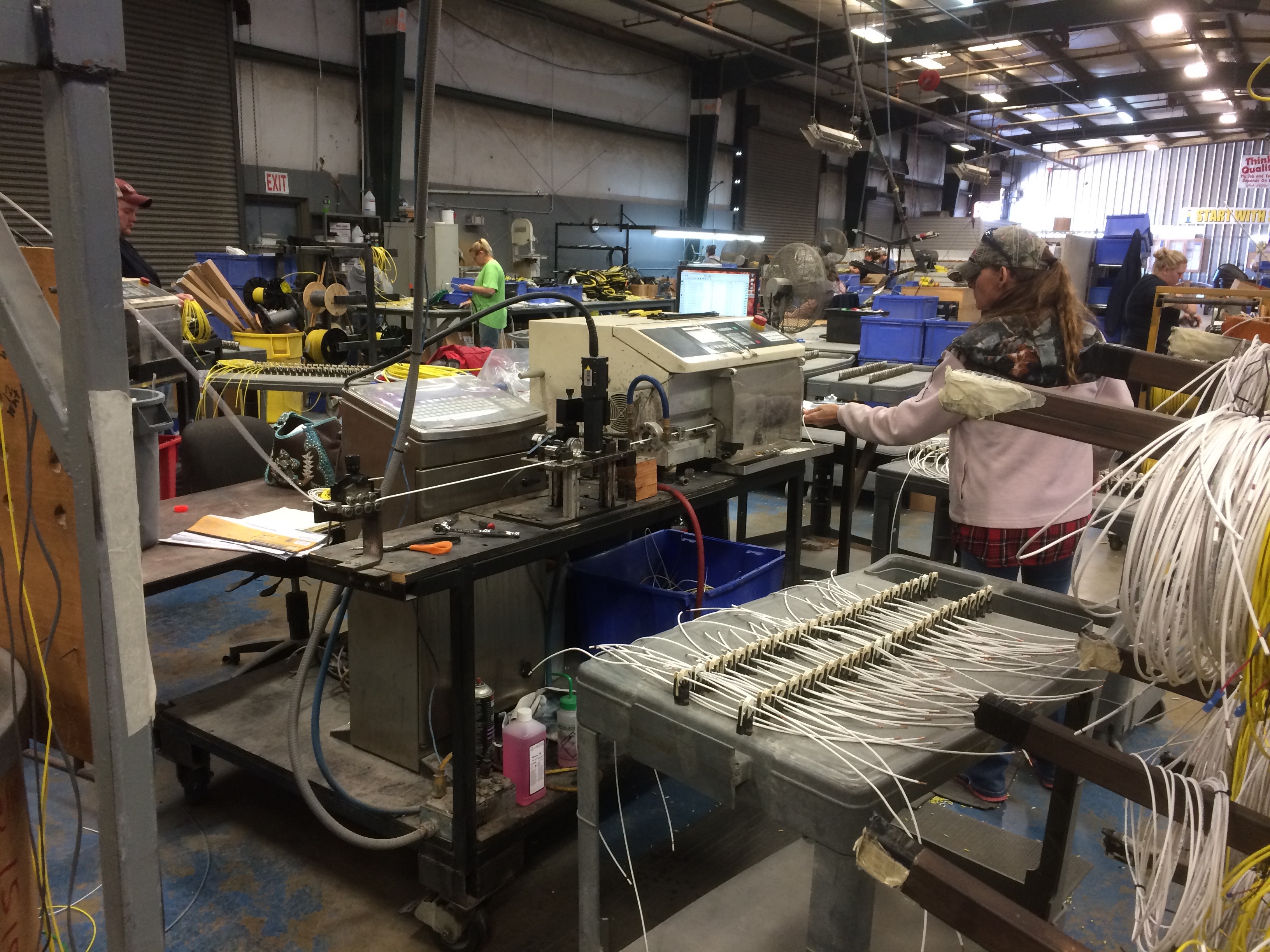 I noticed on this an other tours that there is a definite lack of colored wires for the electrical components in the coach. Tiffin solved the mystery for me. They print directly on the wires to designate which coach they are for and which component. That would make it easy to
trace a wire. Depending on the length of the coach, there may be 2-3 miles of wiring.
The tour itself was the most up close and personal tour we have taken. We walked right through most of the work areas. I guess the workers are used to working around the tourists, they didn't seem to mind. Expect to spend about an hour on the guided portion. Wear closed toed shoes and clothes you don't mind getting dusty. Most of the tour is pretty noisy, so you will have a hard time asking questions unless you are right next to the guide.
After the guided portion they give you time to look at some on the models being finished atthe end of the assembly line and some that are out on the "Yellow Brick Road" awaiting corrections. The good thing about the Yellow Brick Road is that you get to see several models with the slides in. The models we saw were usable with the slides in, but it was a tight fit. It's something to keep in mind when shopping, check the unit with all the slides in.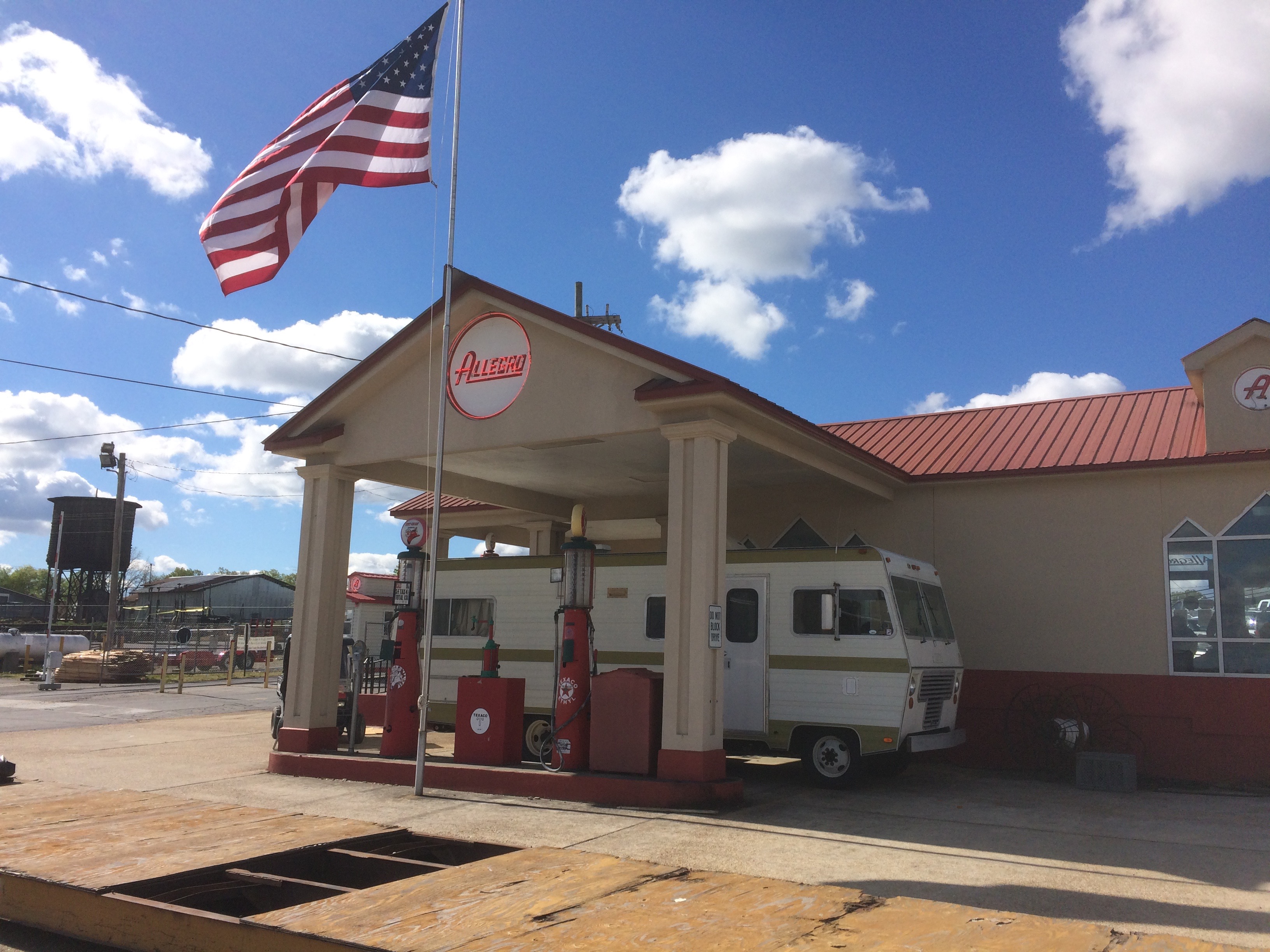 We ended up spending about two hours total. The fiberglass plant is in Iuka, MS and the paint shop in Belmont, MS. There are no tours there, but if you went over they might let you have a peek. We didn't go to either, but we did drive through the service center, which was very impressive in scope. And don't forget to look inside their vintage Allegro parked on the backside of the visitors center. Prepare yourself, it comes from a time when avocado, orange and lime green where popular color schemes.
Overall, the Tiffin tour was most up-close tour and personal tour, but not nearly as informative as Fleetwood. But once you learn construction methods you can look for yourself and tell what they are doing. I would not hesitate to purchase a Tiffin, new or used. They are beautiful and high-quality coaches with great service.