While we were passing through RV County in northern Indiana we thought we would stop off for a couple more tours. We had taken tours before, mostly of Class A's but also Heartland to see their upscale fifth wheels.
Jayco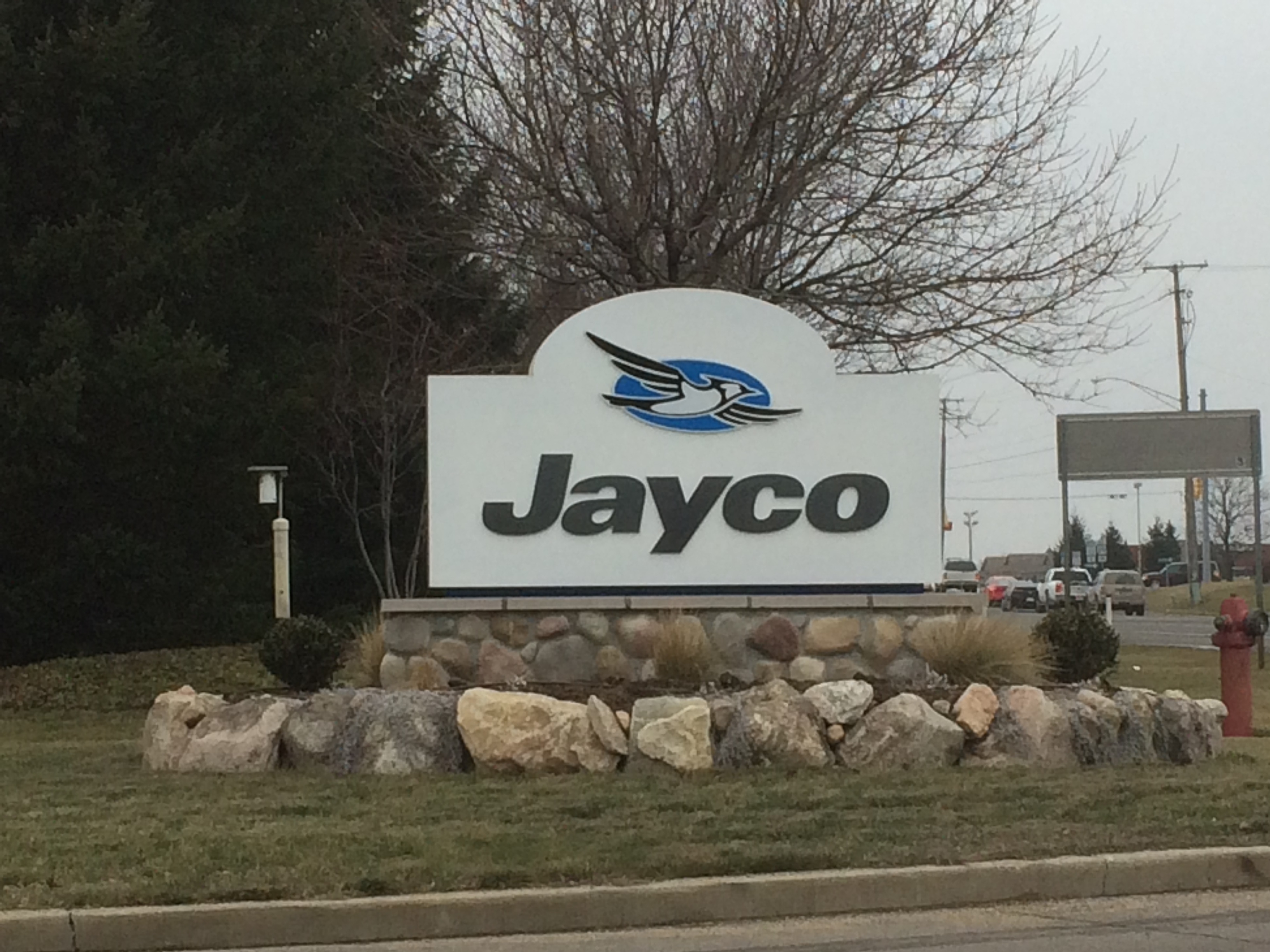 On Monday, we walked through the Jayco plant. They were in the middle of switching over from Seismic toy hauler to the Designer, which is their top of the line luxury fifth wheel. It was an interesting tour. I like some of Jayco's elements. Their 80/20 extra-deep stainless steel kitchen sink is really nice. I like they way they do stone work around their fireplace and have a mantle. I also like that the Designer line has real wood everywhere. We found out that they use Furrion TVs. I had not heard of the brand before, but they apparently are designed to take a lot of vibration and temperature extremes. Furrion makes many products for RVs and marine applications.
Extra insulation is an option for the sidewalls on the
Designer line. You can see in the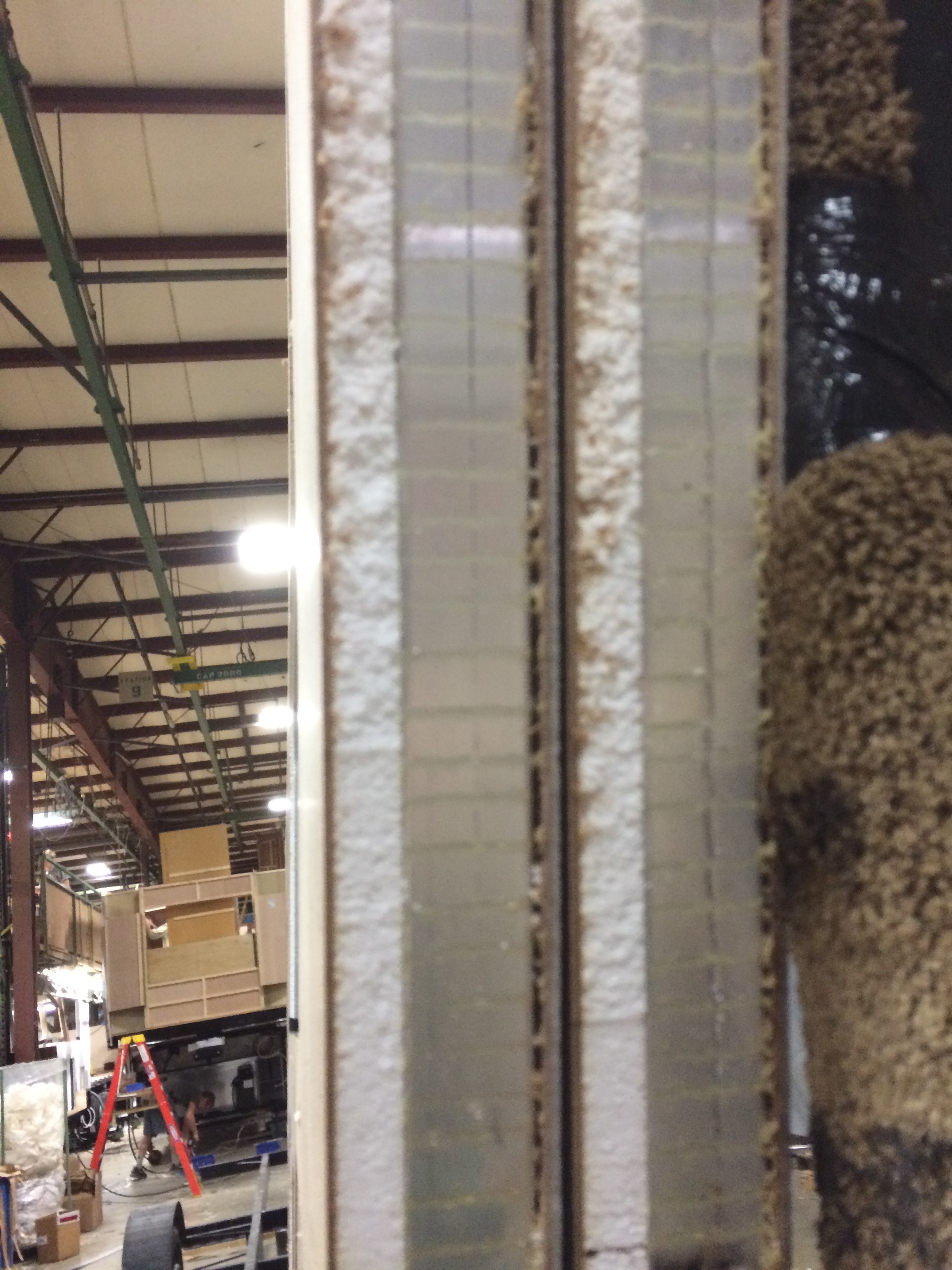 photo that there is an extra inch or so.
I can't say there is a whole lot more that makes Jayco stand out. Their frames come from Lippert, built to Jayco's specifications. Lippert makes a many wonderful RV components so I have no reason to doubt that the frames are great. The front caps are manufactured by a third-party. And interestingly enough, after they make the cut out for the compartments, they send the cut out piece to a third party to make the doors. The tour guide swears that those same cutouts come back to the wall it was cut out of. This is likely the process at most trailer manufacturers.
Jayco brags about using nailers on both sides of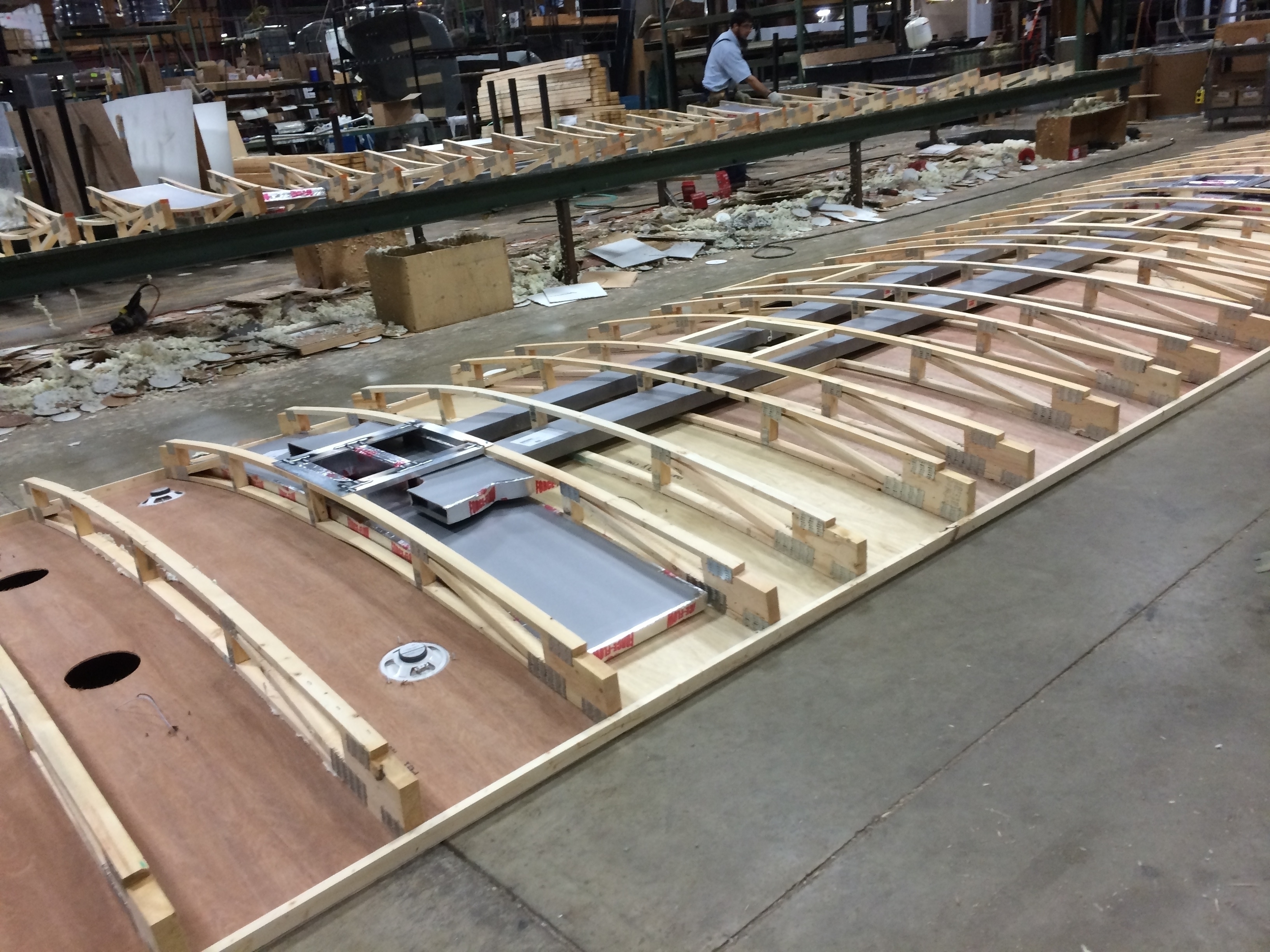 the their wooden trusses. Meanwhile, many manufacturers use stamped steel trusses. There was a whole lot of nailing and stapling going on all over from the floor to the roof. I don't know about you, but if you have to have wood in something that bounces down the road for years, I would much prefer glue and screw.
The most disappointing thing to see, Jayco assemblers aren't paid by the hour, but on a quota system. If today's quota is 10, the roofing guy comes and builds 10 roofs, the flooring guy comes and builds 10 floors, and so on. As soon as the workers are done with their 10 units, they can leave for the day. We saw a lot of workers really rushing around to get finished. It's hard to believe that a lot of mistakes aren't made. There were also a lot of very young workers there. Other tours we have taken had young and old working together, craftsman and apprentice. There was also a conspicuous lack of marking tape used to highlight flaws. Every tour we have been on there are copious amounts of tape used by quality assurance inspectors. Maybe Jayco doesn't need quality assurance inspectors like everyone else.
I don't know if all this affects Jayco's final quality or not, but I can tell you that when I visited a dealer a few months ago I saw several screws on the bottom of a slide out that weren't fully seated. You will have to draw your own conclusions.
Redwood RV
The tour of the Redwood RV factory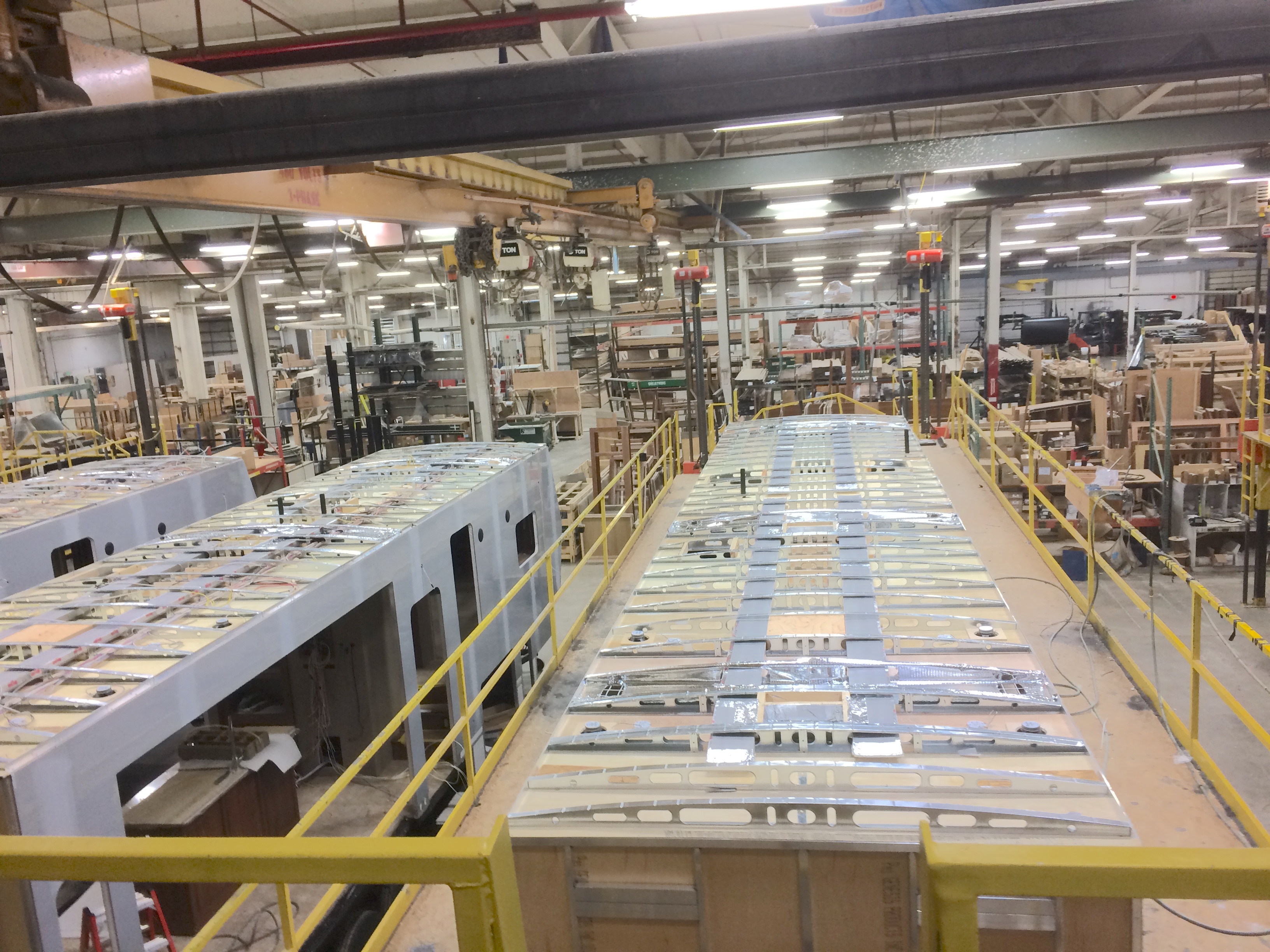 was very good. I was very impressed with their assembly methods. Compared to Jayco, well, there was not much to compare.
Redwood uses a Lippert frame for it's chassis with a six-point hydraulic leveling system. In fact, the whole frame/chassis is comprised of Lippert components in what Redwood calls Falcon Integrated Technology (FIT). Of course, if all the components are from the same manufacturer they would likely be engineered to work together well.
The underbelly is pretty standard stuff, a corrugated plastic for protection, astro-foil for insulation. The bays that have tanks are partitioned off so they are climate controlled. There is an option to get a heat pad to prevent freezing while driving. The upper deck uses three inch aluminum cross members. All the aluminum framing is welded on both sides of the joint. The decking is tongue and groove marine grade plywood. Any plywood decking is screwed, not stapled or nailed, a far superior method of joining in any application. All the tile is individually hand laid squares of vinyl which makes repairs easier.
Don't get me wrong, you will find a some staples in the interior walls, but these are added for strength. Mostly everything is joined with screws, including the solid hardwood cabinetry. There are no vinyl wrapped components in the Redwood. Some of the lower lines have it, but not the premium line.
I wish that fifth wheels could be made without luann in the sidewalls, but I haven't found such a thing yet. At least the Redwood has the frameless double-paned windows that should help preserve the seals and prevent leaks. The best defense to avoid delamination is good maintenance to prevent water intrusion. We didn't get to see the walls being made, that was under a different roof. But they use a square tubular aluminum that is welded and look to be gusseted at all the openings. The fiberglass is a bit thicker on the Redwoods than most others. It has to be shipped on flatbed in sheets where most trailer fiberglass is thin enough that it comes on big rolls.
For the slides that drop level with the floor, Redwood uses plastic ramps. Not as nice as the aluminum ramps we saw on Fleetwood motorhomes, but at least they are not wood that some manufacturers use.
The roof material was referred to as an Alpha Ply.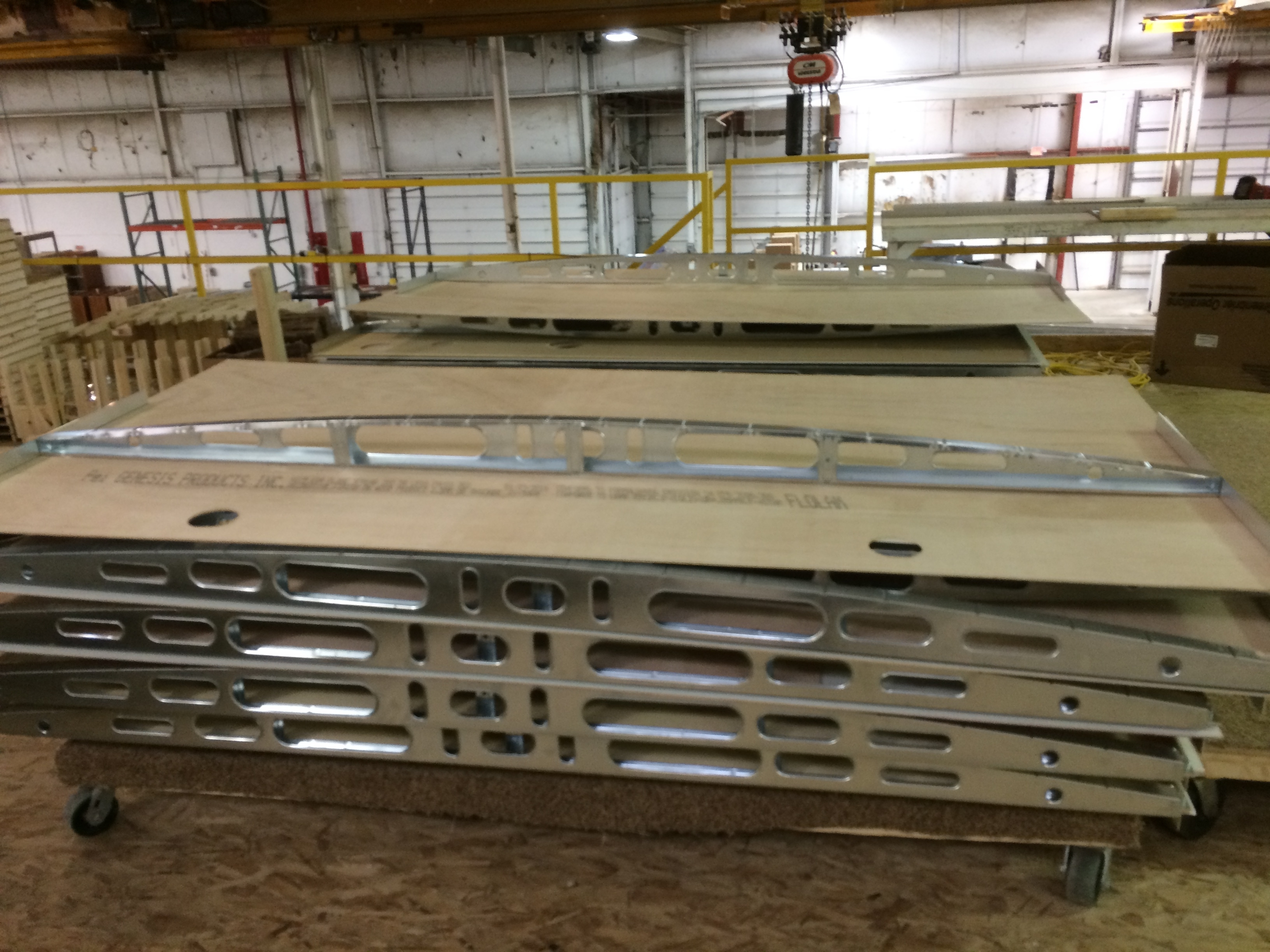 Our guide says it needs no maintenance and has a 12 year warranty. You still need to maintain the sealants around the edge and any roof penetrations (AC, vents, etc.), but the roofing material itself has a UV protection and needs nothing. And it can be patched if that low hanging limb rips the membrane. Supporting that roof are steel stamped trusses, very lightweight and won't rot if you do get a little water intrusion.
Redwoods are finished off with a full-body paint job with Sikkens automotive paint – that costs $10k per unit according to the guide – and wraps up onto the roof for a really nice look. Sikkens is a premium paint that when done right, will last a lifetime. That paint is done at another business that specializes in paint. Full body paint means no graphics to fade. It's hard to believe that their logo is not a graphic. I'll have to check it out next time I see one in person.
I was glad these tours were scheduled the way they were because I wanted to compare the two. The Jayco Designer 37FB is considered to be a luxury RV with a floor plan comparable to the Redwood RW39MB. The Jayco MSRP is between $123k and $138k according to an internet search. The Redwood MSRP is $125k and $150k. The range probably depends on options. Redwood is a far superior product. The better manufacturing methods means that the trailer should last longer which is important to full-timers. It is also important to people buying used.
I recommend that anyone planning to make such a major purchase do a little due diligence before plopping down a rather large bag of money.